One week until the big event! Join the us at the Taste of Lemay/Affton on Friday October 6th in the new Hancock Elementary Gymnasium!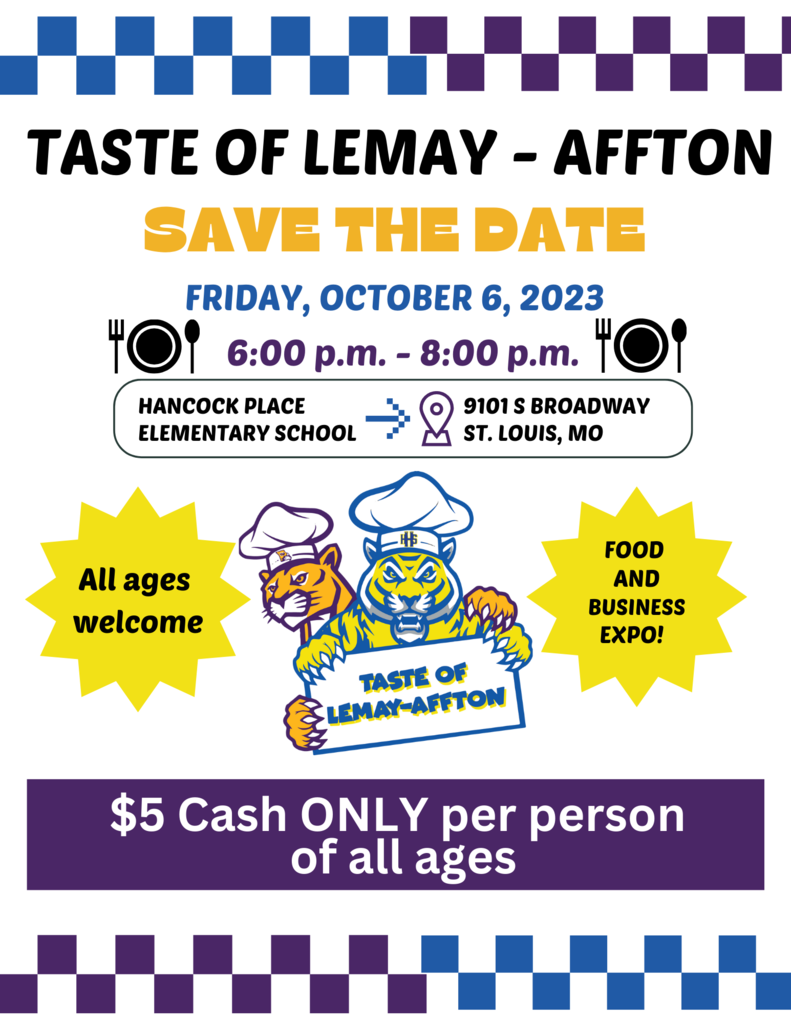 We have rescheduled our Family Fun Event from last night to next Wednesday, October 4th, from 6pm to 7pm. We look forward to seeing as many of you there as possible!
Unfortunately, the weather did not cooperate for our event. Due to playground equipment being wet, not being able to use sidewalk chalk, and not safe for children to run around on blacktop, we will be rescheduling.
Last reminder of our Family Fun Event for this evening, 6pm to 7pm, at Hancock Place Elementary School! Kona Ice Truck, sidewalk chalk, bubbles, and playground! Weather forecast is FANTASTIC for an outdoor fun event! Thank you to our Parents As Teachers and Preschool programs!
Reminder of an OUTSTANDING FREE OPPORTUNITY event being hosted by our district at Hancock Place Elementary School this Saturday, September 30, 2023. MOCHIP, for all ages, infant through adult! Please see our website and Facebook pages for the flier with more details! Thanks to the Craftsman Masonic Lodge 717 for providing the opportunity and Varsity H for volunteering!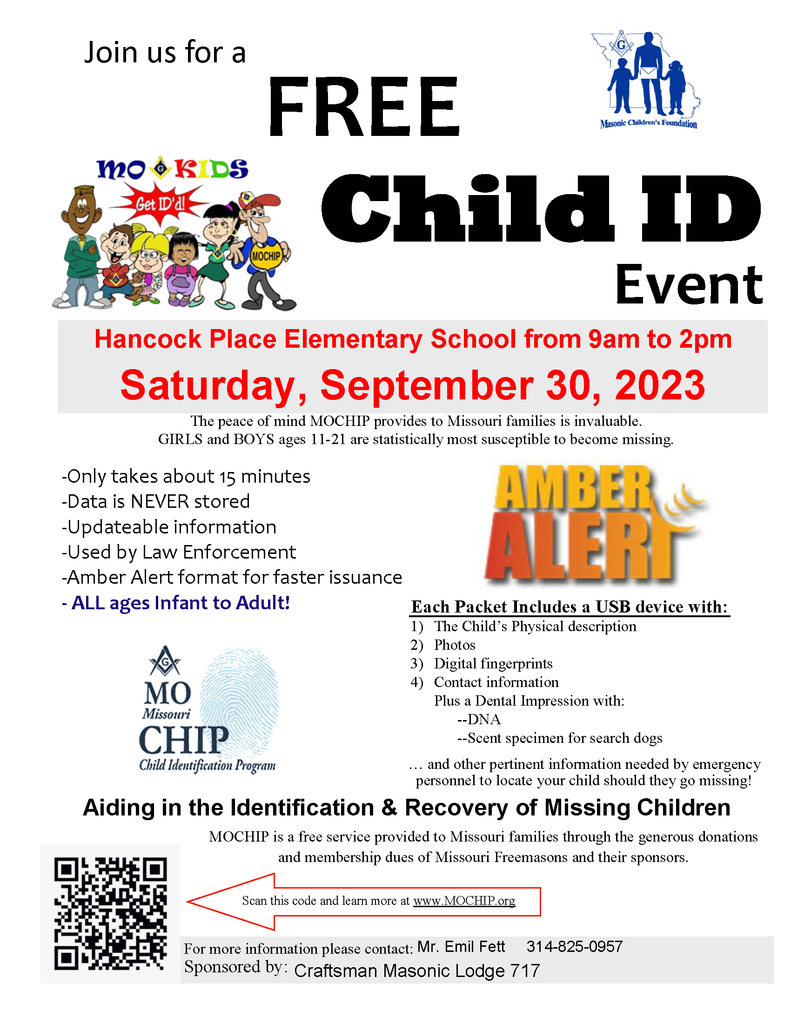 Outside fun time for your child and family on Tuesday, September 26th, at our elementary school, from 6pm to 7pm. Kona Ice Truck, bubbles, sidewalk chalk, and playground! See flier!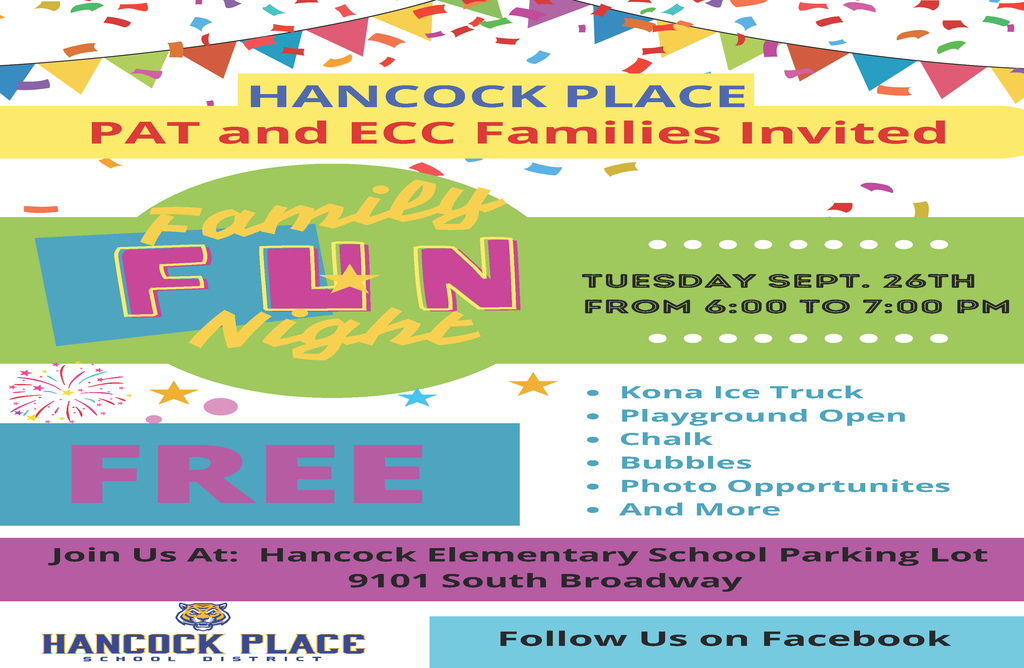 We are happy to share the following information with district parents. Please see the attached flyer in your email or on our district websites; if you have any questions, please email
help.mo@withodyssey.com
or call 573-691-5876. The Missouri Department of Elementary and Secondary Education (DESE) is pleased to announce the new Close the Gap Grant program. This program provides a one-time grant of up to $1,500 for K-12 public school district and charter school students to use towards allowable educational expenses. To be eligible for the grant, students must be a Missouri resident and currently enrolled in K-12 in a Missouri public school district or charter school. Please visit missouri.withodyssey.com for details.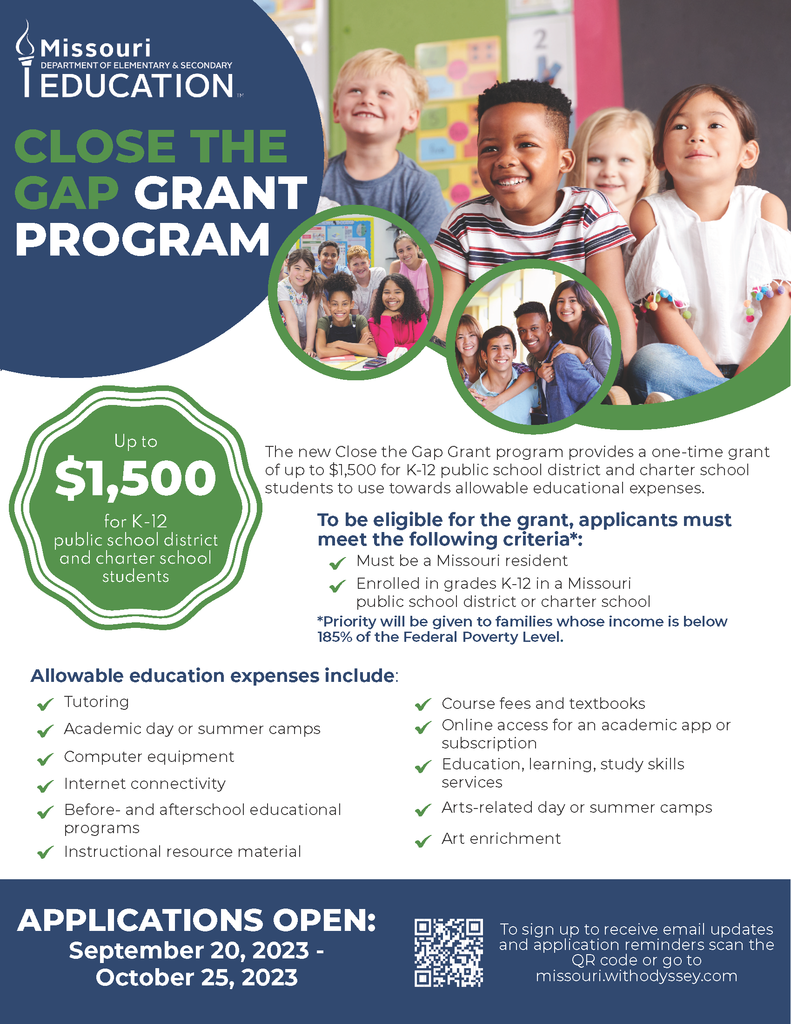 HP alumni shared their unique paths to where they are today. Thanks Mr. Ryan Gibbs for organizing! Our children can accomplish their goals! Positive role models, advice, and knowing that we all have challenges to overcome and plans to achieve! NJHS members were fantastic!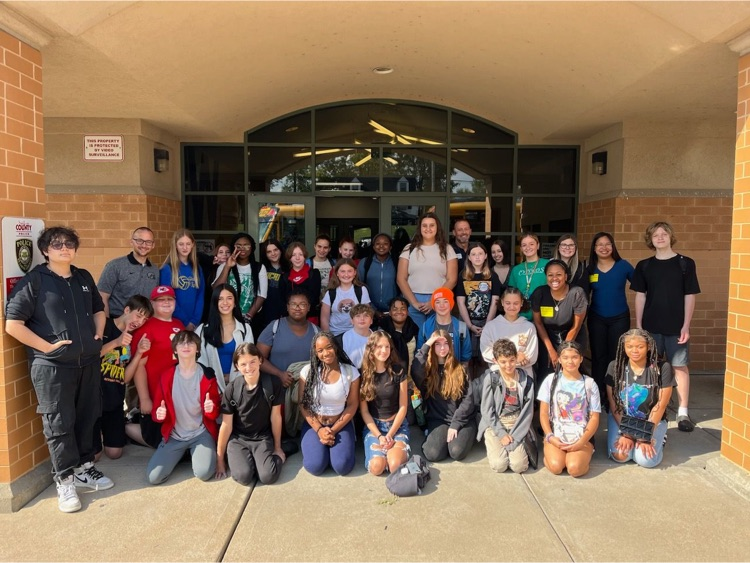 The Missouri Child Identification Program is being provided for free on September 30th from 9am to 2pm at our elementary school! This is for all ages, infant through adult! Please see flyer for specifics!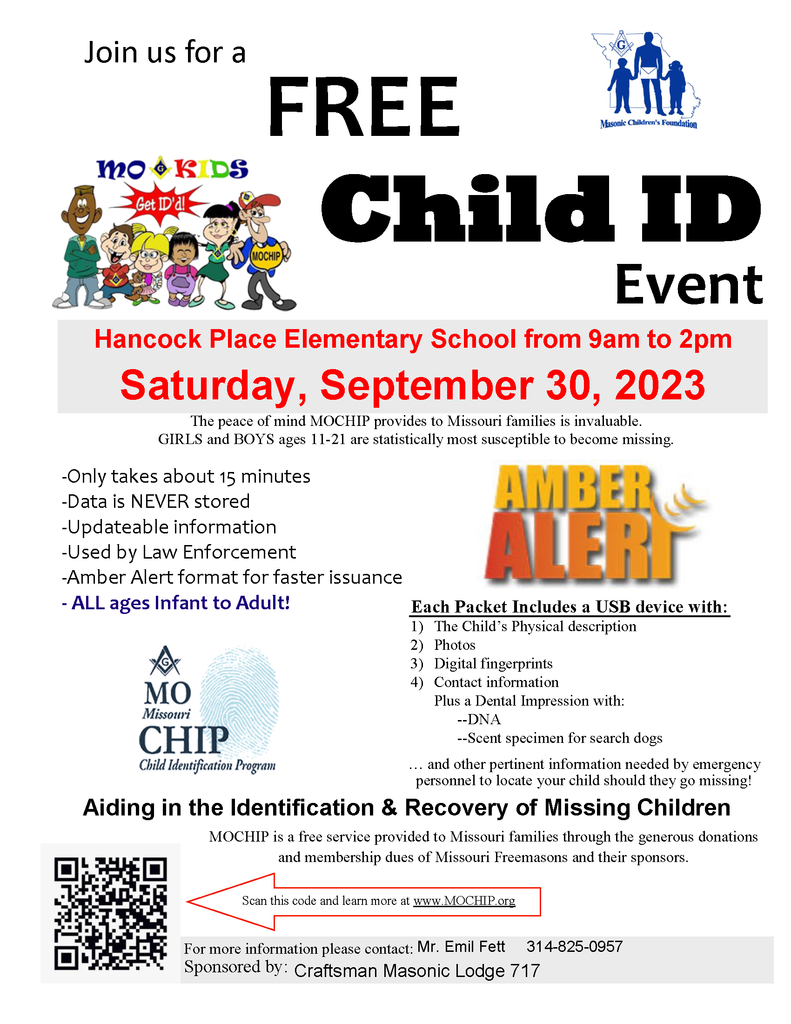 FANTASTIC first day of school for our preschool TIGERS! Messages will be sent as needed, but possibly a few more like these during the first days as routines are established and expectations are met. A few important items to share: -Please remember to stay at your car for drop off and pick up. Do not walk to the front door. This includes not parking on the parking lot and walking to the front door. Most parents met this expectation and it went smoothly. -Please pull up to the white painted line if you are the first car. -Walkers did a great job of lining up on the right side of the front doors. -We are hoping to have car tags completed and ready to distribute tomorrow afternoon. Place this on your rearview mirror so that we are able to see your car tag number and name. -For pick up, remember to stay at your car. When your child is brought to you, please buckle them up safety and as quickly as possible so we can keep the line moving. -Attendance is very important. All of our full day classes are nearly filled. We expect children to be present every day unless sick. If your child's attendance becomes a concern, it is possible that we may have to remove them from our program and provide the opportunity to other families waiting for a spot to open. Full day students are expected to attend the the entire school day. THANK YOU!

We would like to introduce you to our newest tigers! Welcome to Hancock Early Childhood, Ms. Clark and Ms. Kramer!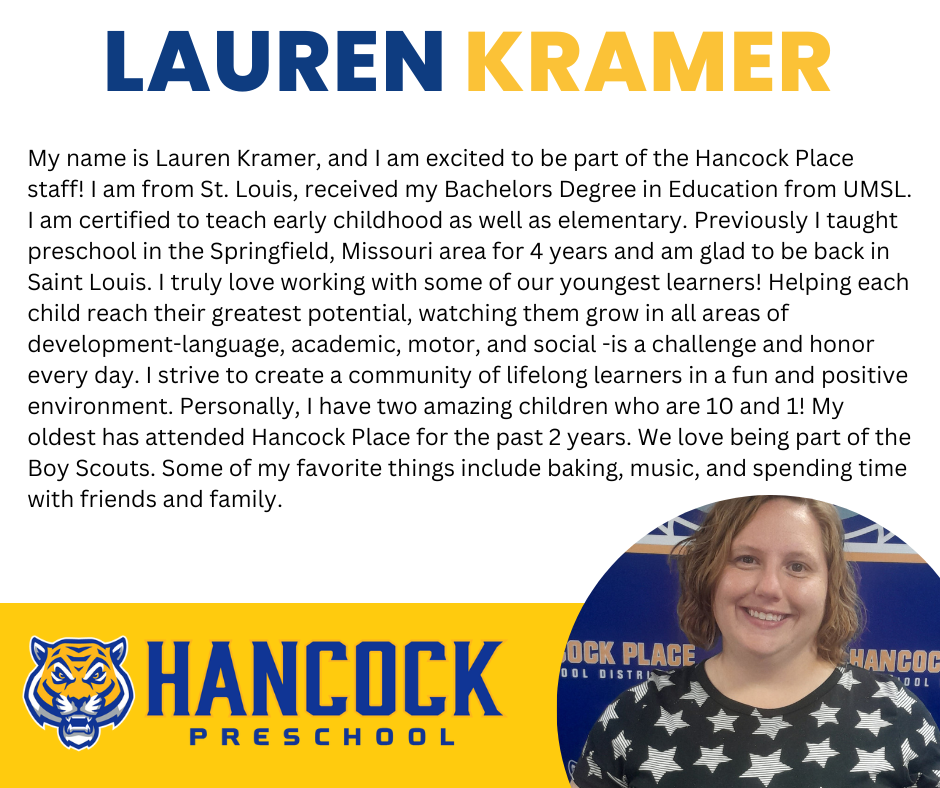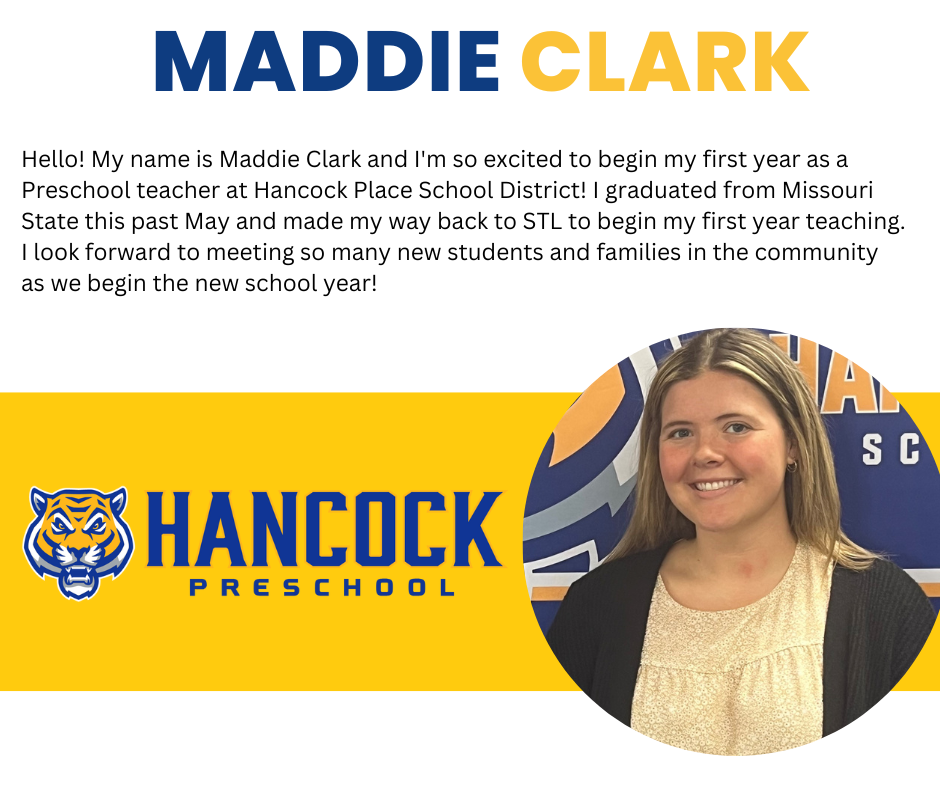 Hello HP Tiger Preschool Parents, (PLEASE READ ALL OF THE BELOW and WATCH VIDEO; this message is shared through Text, Email, and on our Website) We have 3 full day and 4 half day classes at the Early Childhood Center and 2 full day at the Elementary School; please keep this in mind when you receive messages. ECC: Kyle, Anderson, Clark, Karl, Pratt; ES: Trapf, Kramer BOTH SITES: If you have not paid your required $30 registration fee: -cash or check can be placed in envelope with your child's name on it and given to a preschool staff member when you drop your child off on Monday -if by card, please contact Ms. Bridget Fusco, 314-544-1300, ext. 10000 If your child is a non-resident and you have not paid your required $175 tuition fee for August, you must do so on Monday or Tuesday; see details above for payment method. Tuition is $425 for the following months and must be paid on or before 1st of each month. If your child is in Before Care or After Care: Before Care is $87 and After Care is $122 monthly; you must pay on Monday or Tuesday next week for August, and the following months must be paid on or before the 1st of each month. Pick up and Drop off are different at the two sites. All students will be provided a colored wrist band; please attach to backpack handle. ECC ONLY: See attachment for ECC procedures and video link too.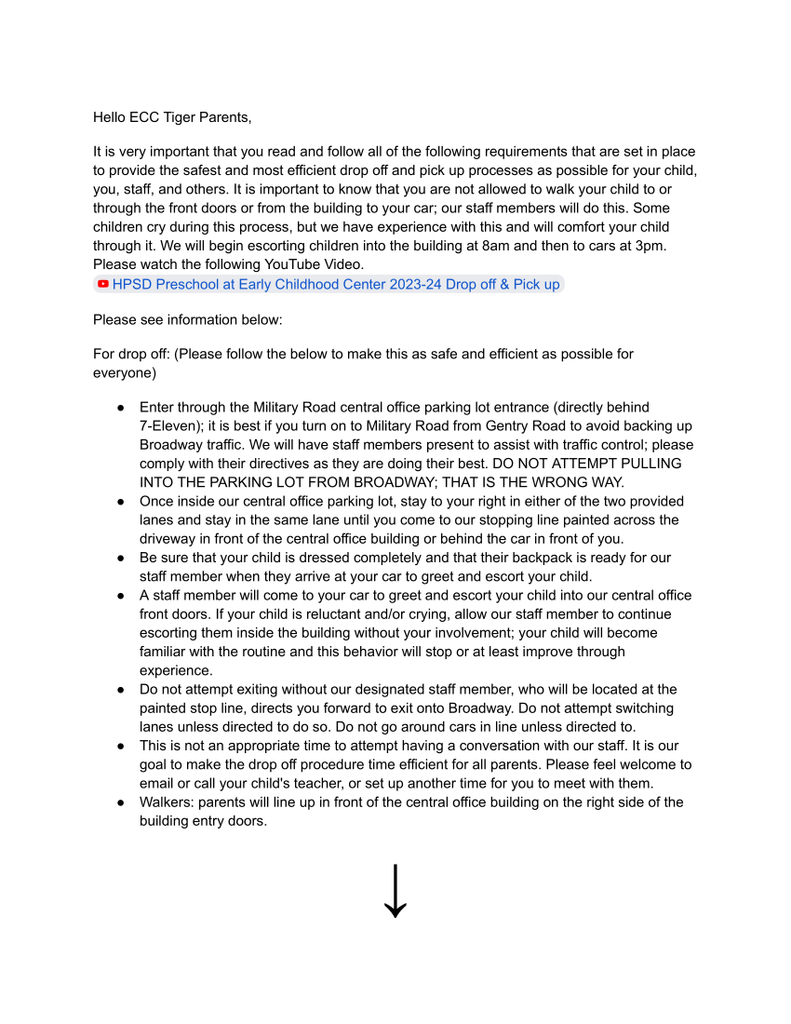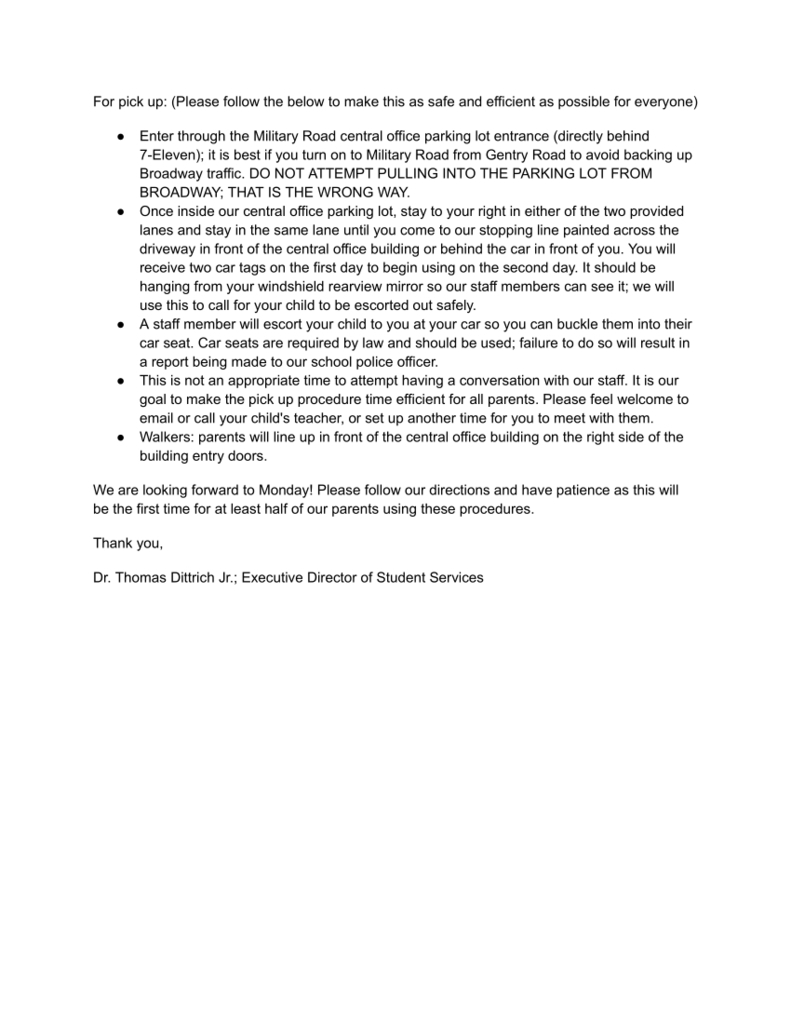 Reminder: Open House today at Early Childhood Center for Mrs. Karl's from 3pm-5pm; today for Dr. Kyle's, Mrs. Anderson's, Ms. Clark's, and Mrs. Pratt's from 5pm-7pm; and Thursday at Elementary School for Ms. Kramer's from 5pm-7pm. Please be sure to complete an important form that will be provided to you at the event. Feel free to bring your child's schools supplies to the event instead of waiting for Monday. Complete registration if still needed. You can pay for tuition, before care, and/or after care at the event today.


Take advantage of the this weekend to get some school supplies.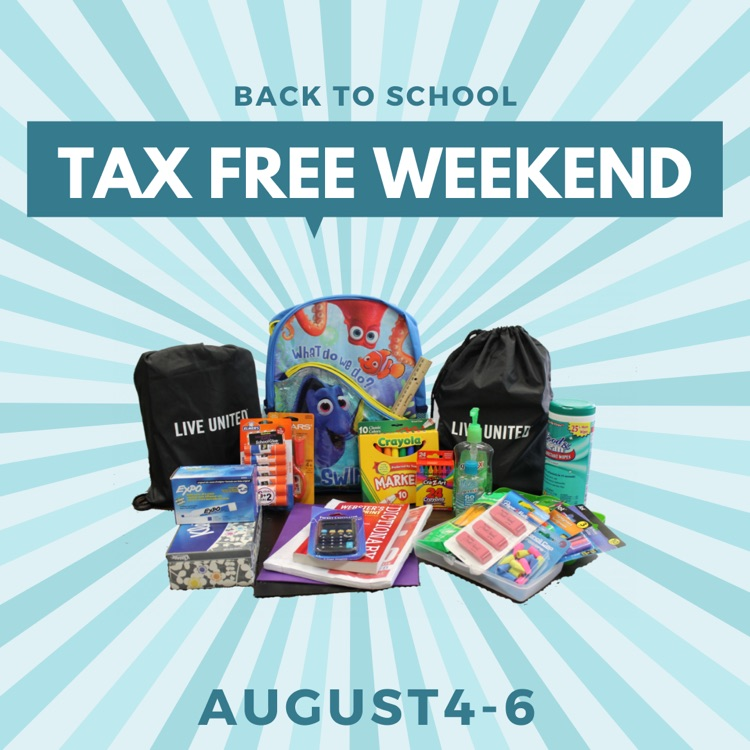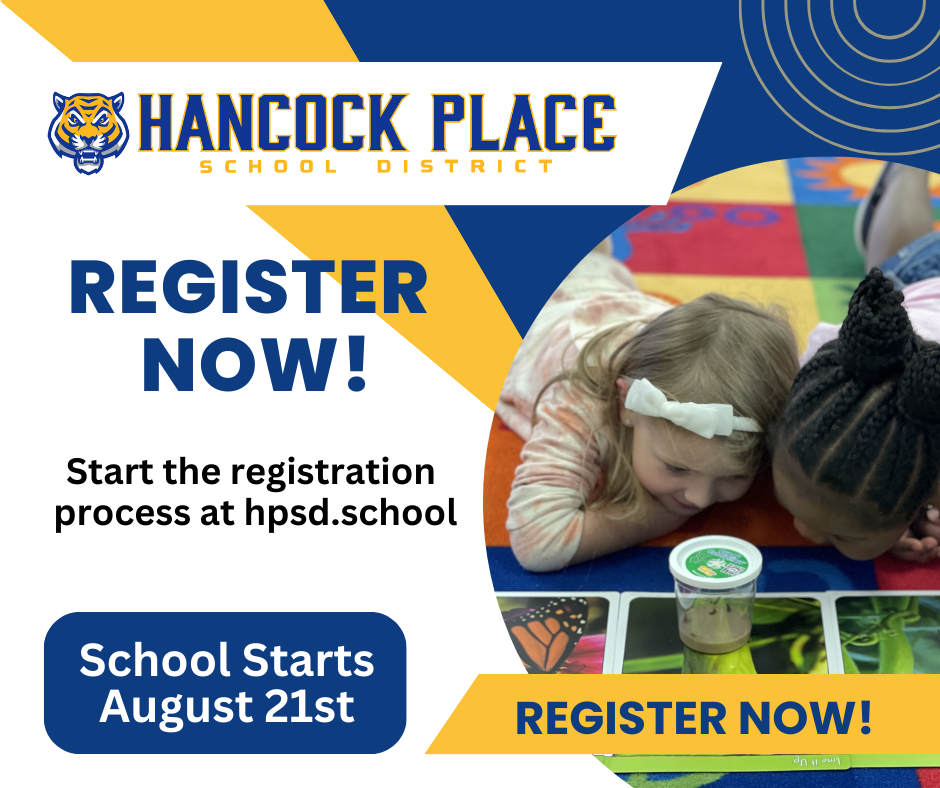 The HPSD will be updating its phone system the week of July 3rd. All offices will be open, however you will need to each out via email until the phones are restored.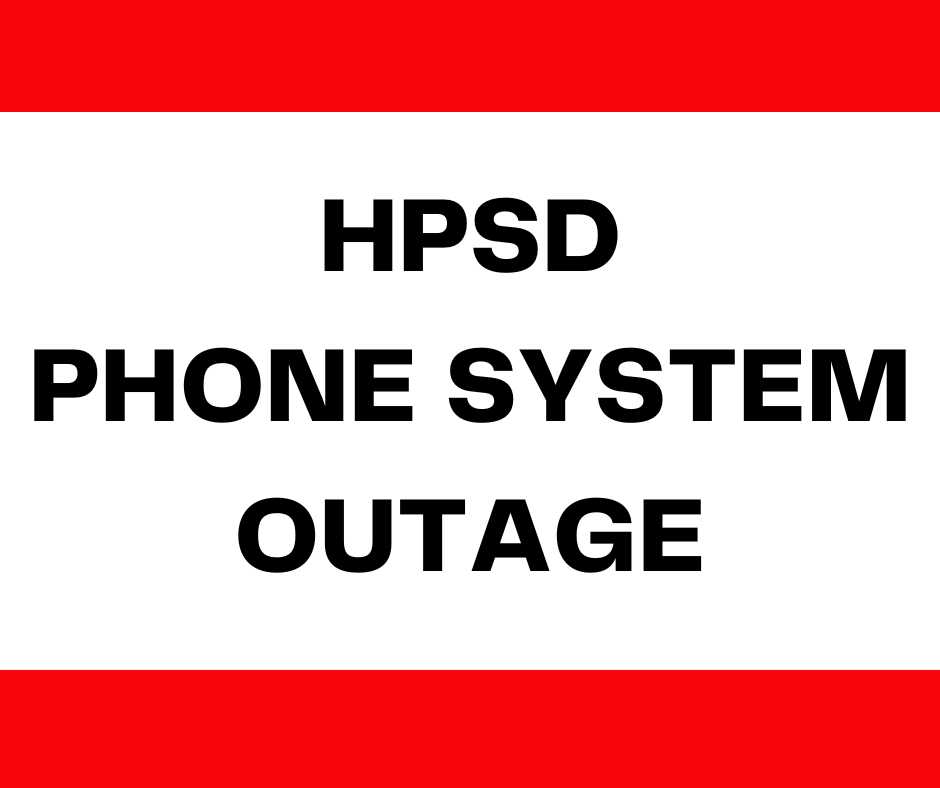 Reminders: Last day of school is tomorrow; dismissal times are 11:15am normal time for AM only session students, 11:40am for full day students, and there is no PM session or after care. PLEASE, if you haven't registered your child for preschool or kindergarten for next school year, do so ASAP; spots are filling up quickly so don't be left out. If you have questions about registration, call Mrs. Clendenin at ext. 198. If your child is transitioning to kindergarten next school year; consider enrolling them in our Kindergarten Bootcamp summer school class. Thank you for a fantastic school year! Have a wonderful summer!

St. Louis Area Community Organizations Active in Disaster will be at Hancock Place Elementary on Saturday, May 20 from 9am to noon. Assistance will be available for those impacted by recent flooding in our community. See flyer for more information and contact number #hpsdtigers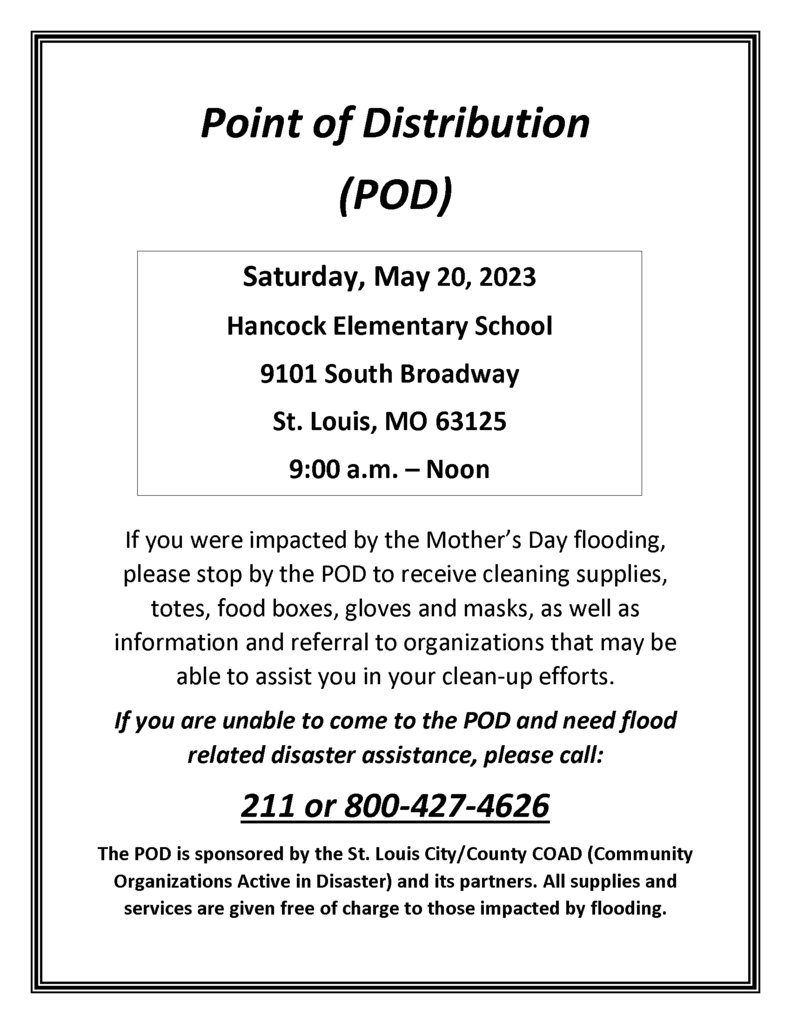 Reminder from the Student District Calendar on our website: Next Thursday, May 25, 2023, is our last district school day. It is a half day in which full day students will be dismissed at 11:40am, morning-only students will be dismissed at their normal time of 11:15am, afternoon-only students will not have school, and there will be no after care.